Products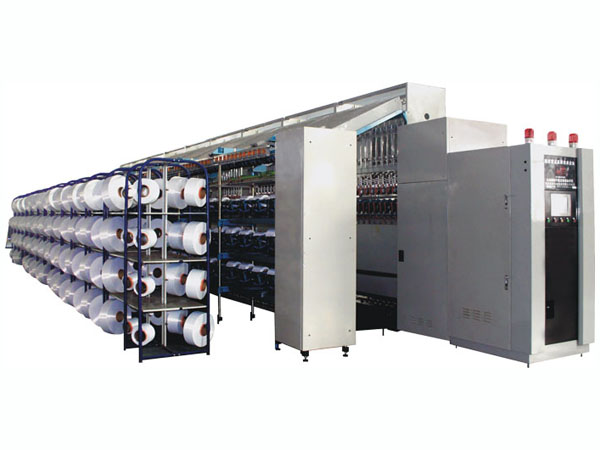 Usage
Texturing machine of the empty package SJ800MB type one machine is mainly applied the spandex filament, DTY strand, by heating and false twist deformation processed into spandex single package wire and double-wire. The application of various elastic socks, stockings, sports socks, knitted underwear, various textile elastic cotton material, its jeans, elastic clothing, sportswear, casual wear, sweaters and other elastic clothing.

Features
1 Machine set plus bombs and spandex clad in one save labor, material saving, cost-saving feature.
2 The machine adopts the man-machine dialogue operation interface, process parameters can be easily set in the control panel and modify, the spandex speed, spinning speed can be infinitely variable speed governor.
3 The machine adopts the the texturing machine overall framework structure machine run more stable, beautiful appearance, convenient operation.
4 This machine is a high degree of automation, using advanced computer full frequency conversion control technology, also has a broken wire alarm and shredded.
5. Compared to similar machines in the old section, greatly enhance speed, higher production efficiency.
6.The machine adopts advanced frequency anti-stacked device winding shape of the exchange, no tread side of the phenomenon, the formation of coated wire node beautiful uniform pitch, high bond strength, the drafting speed ratio and unwinding tension is very uniform, has a good processing performance.
Product parameters

SJ800MB

M-type, two-sided symmetrical arrangement

The maximum mechanical speed

500m/min

False-twist mode

Stacked disk friction

Section number / spindles per section

7,8,9,10(节)/24(Ingots)

The number of whole machine spindles

168、192、216、240(Ingots)

Pitch

1640mm

Machine external

Machine total length

14410,16050,17690,19330(mm)

Machine total width

6700mm(On the hot box 1.4m)

Machine total

3100mm

Processing denier range

22-330D

The length of the deformation hot box

1600(mm)

Cold track length

600mm

Turn the power

28.51,28.51,41.51,41.51,55.51(KW)

The total installed power

69.11、87.91、93.71、113.51(KW)

Effective power

约28KW(168锭)

Package size

¢250×250(mm)

Package weight

4.5kg

The original silk largest shape

¢435×120(mm)

The number of draft accompany

Make their own adjustments according to customer requirements

2.2-4

LCD touch screen, frequency conversion stepless speed

Adapt

to

the

raw

coefficients

Other raw materials of spandex :20-75D :30-500D