Products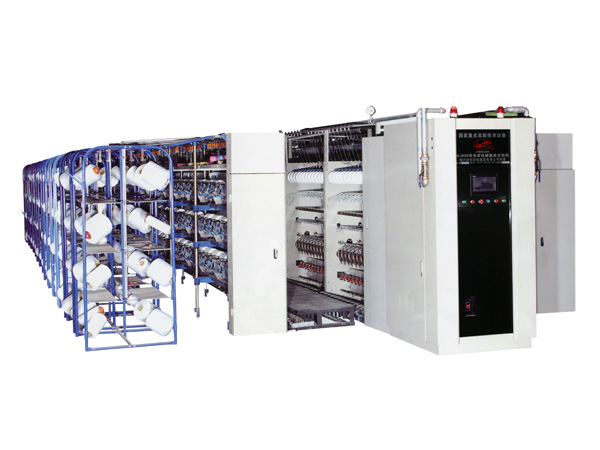 Features
1 whole structure using the bilateral three symmetrical arrangement of the design, the left and right sides of coated wire can be processed in different specifications. The main frame by the sheet metal structure wallboard, the whole shape of compact structure, beautiful.
2 Three roller shaft, the clarinet shaft, grooved drum axis and oiled barrel roller axis through the central computer by the inverter centralized control, stepless speed
3 Process set LCD touch screen, set by the man-machine interface, process parameters can be adjusted.
4 Each ingot bit configuration the two probe wire and two shredded, reduced the labor intensity of the operator.
5 Winding grooved drum box application fully enclosed structure, not only to improve the service life and reduce the noise of the work site, forming after the wound bobbin beautiful appearance, able to adapt to water spray, high-speed air-jet looms Reversing need.
6. Controlled by an inverter drive motor, machine to reduce energy consumption.
7 Nozzle position in the network controlled by the upper and lower roller tension, the network air consumption savings compared with similar products.
8 Designed dedicated the spandex retire solution device, in conjunction with the Road roller to eliminate between each spindle elongation error, uniform spindle finished yarn tension.
9. Dedicated oiling roller, according to the machining process requirements, arbitrary regulation oiling rate.
The number of machines and spindles

120、144、168、192、216、240锭

Scope

50-300etx polyester or cotton lun of ≥ 20etx spandex lamination

Maximum spinning speed

550 m / min (stepless adjustable)

Mounted volume standard weight

4.5Kg

Package size

¢250×250(mm)

Process adjustment mode

The stepless mobilization of large-screen LCD touch screen, inverter

Machine installed power

About 13-17KW / h (240 spindles)

Pitch

1640mm

Dimensions

18800 (L) x 6680 (width) x 2500 (H) (240)