Products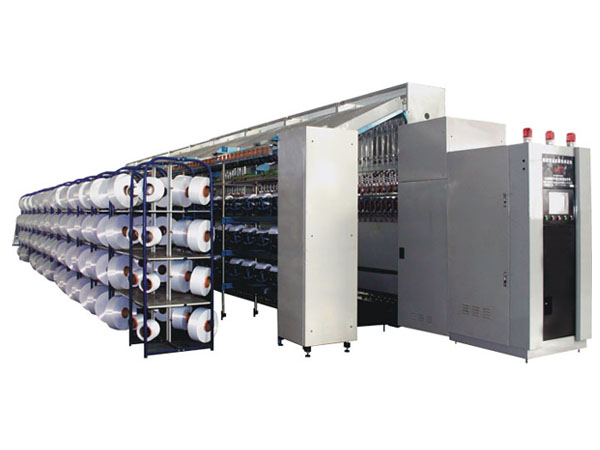 Use
SJ800M type biphenyls texturing machine suitable for polyester, cotton lun the untwisted original silk, heating and twisting deformation processed into high elastic, the shot, INTERLACED performance stretch yarn. Retrofitting the tunnel network according to user needs.

Performance characteristics
The machine, under the hot box are biphenyl gas tank heating, heating and temperature control by centralized computer control, temperature control accuracy of ± 1 ° C, to ensure consistency of temperature between the spindle conducive stained uniform. 1.6 meters long on the hot box according to user needs, in order to better adapt to the of coarse denier silk and high-speed requirements.
1000 type of false twist, its maximum speed 14,400 rev / min, selectable 6mm and 9mm friction plates to meet different denier, different thickness stretch yarn processing needs.
Using imported Kazakhstan beat West "hose" Emerson "inverter, the whole key transmission parts made ​​of imported bearings, to safeguard the reliability of the whole rotation.
The transmission system adopts frequency conversion control technology, the whole main drive shaft configuration tachometer feedback system, the implementation of closed-loop control moderate speed error rate of less than 1.5%.
Shaft end drive arc tooth synchronous belt drive, the structure is simple, reliable, and low noise.
designed with special shape precision forming grooved drum, while accompanied by computer-controlled anti-stack process, to achieve a precision winding to effectively prevent overlap, bead generated to ensure that the winding forming good and excellent unwinding.
With automatic probe shredded device to control the generation of wrapping phenomenon.
main guide wire parts are made of high-grade titanium magnetic and 99 magnetic, in order to ensure the smooth Silk Road.
double-sided, multi-layer independent of the original wire frame design, can effectively prevent the the original wire wrapping phenomenon.
interactive interface process parameters set, and accompanied by a large-screen color LCD touch screen, the whole process more streamlined parameter settings.

Technical requirements
1 full machine installed share of the ground, the longitudinal ground height difference is not more than 10mm, horizontal is not greater than 5 mm.
2 ground concrete foundation should be solid, not less than 15 cm in thickness.
Of the Pictured 144 (6), each plus one (24), the increase in the longitudinal length of 1640mm.